MiniGEZA – the original and best mini water heater / geyser
Store:
MinigezaOnline
The MiniGEZA is the cheapest way of obtaining domestic hot water. It includes the heating element, cable, plug, protective shroud, patented properties and safety control switch. It is a shrouded element attached to a cable and moulded plug that operates on any 220V 50Hz electrical system or equivalent elsewhere worldwide.
The MiniGEZA is safe, portable, easy to use, makes the cheapest hot water ever (it uses only 3 units of electricity to heat up 50 liters of water) and is far more efficient than any fixed geyser. If you are using pre-paid electricity, the MiniGEZA is your saving grace!
In stock
Item will be shipped in 1-2 business days
-10%
MiniGEZA – the original and best mini water heater / geyser
Description
The MiniGEZA
Heats water very quickly (uniquely designed protective shroud also creates convection around the heating element to heat the water quickly)
Meets local and international safety standards (SABS/IEC)
Is simple to operate
Is extremely economical
Can be used anywhere anytime
Works in any container basin, wash tub, bucket, drum etc.
Save on your electricity bill by using your geyser less, and using a MiniGEZA for heating your water. It is ideal for camping or caravanning. It is perfect for that staff quarters or outhouse without a geyser. It's a perfect substitute for your expensive geyser, or at least as a back-up in case your geyser is out of action. It's a must-have for every home!
Convenience – Primarily because of its portability, unique patented shroud and sealing system, the MiniGEZA stands way out in front of other heating methods.
Safety – The MiniGEZA must be used FULLY immersed in water at all times without any fear of harm/danger. It is IEC 335 SAFETY STANDARD approved. The cable and sleeve should be handled carefully and are not to be used when damaged. A cut-out switch has also been added to further enhance safety.
Reliability – The MiniGEZA is powered by a specially-made electric element. It is a tried and tested product that should deliver reliable service when used as per instructions.
Hygiene – The MiniGEZA is effective for heating water in both urban and rural areas for general cleansing and hygiene. The MiniGEZA water heater is eminently suitable in preventing the spread of potentially life-threatening diseases, such as cholera, to millions who are exposed to it, by correctly raising the temperature of the infected water. It can be used effectively in areas where drinking water needs to be boiled.
General – The MiniGEZA can be operated in any position, provided it is always FULLY under water and correctly earthed. Only switch ON and OFF when the unit is completely immersed.
Maintenance – The MiniGEZA operation is maintenance-free.
Warranty – Any factory defective MiniGEZA will be replaced free of charge if returned within 3 months of purchase date. This warranty does not apply where the product has been deliberately damaged or, where it has been misused, altered or tampered with by any unauthorised person, or damaged by accident. The unit must not be plugged in an overloaded socket (too many appliances).
The MiniGEZA comes professionally packed with instruction booklet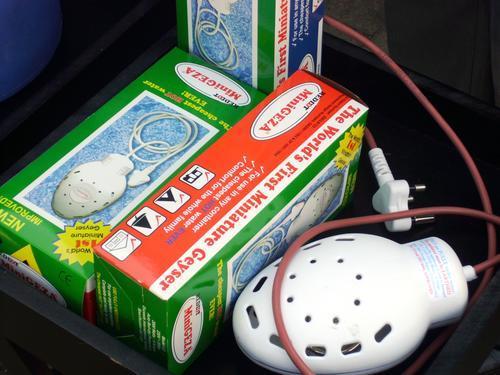 Submerge the MiniGEZA in water and plug it in to start heating
Within a few minutes, the water is heated to desired temperature.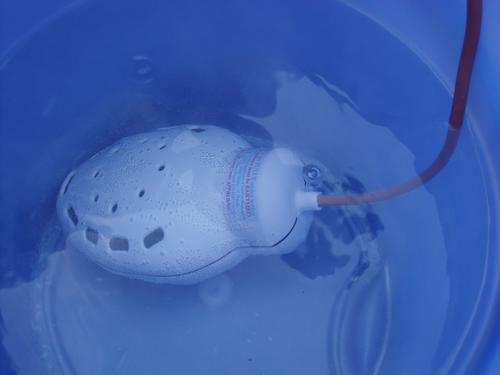 When done, unplug it and remove it from the water, dry it and pack it away until when next needed.
Additional information
| | |
| --- | --- |
| Weight | 1 kg |
| Dimensions | 26 × 12 × 8 cm |
No more offers for this product!
Shipping Policy
Units are shipped within two business days to a Physical Address. Please provide physical address for delivery, and not postal.
Refund Policy
Refund Policy
Refunds will only be issued in the event that you contact us and report the unit to be defective within 7 days of your receiving it. You may have to ship the unit back at your cost. Upon our receiving the unit, it will be inspected for confirmation of the reported defect. If it is found to be a manufacturing defect, then either a replacement or refund will be offered. However, if the defect is found to be damage caused by misuse, then no refund or exchange will be offered.  
Cancellation / Return / Exchange Policy
Replacement 3 month warranty against manufacturing defects. Customer to return defective MiniGEZA. Upon assessment of damage; the unit shall be replaced with a new MiniGEZA unit at our cost ONLY if the damage was a result of manufacturing defect.

General Inquiries
There are no inquiries yet.